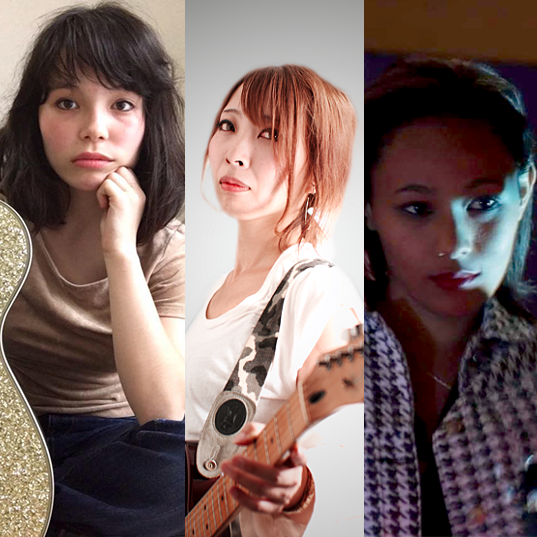 Address :
BKTV Live Stream
Tel :
(+81)-(0)6-6245-7679
"East Meets West" Acoustic, J-POP & R&B LIVE Stream Concert
Acoustic live performance by three female artists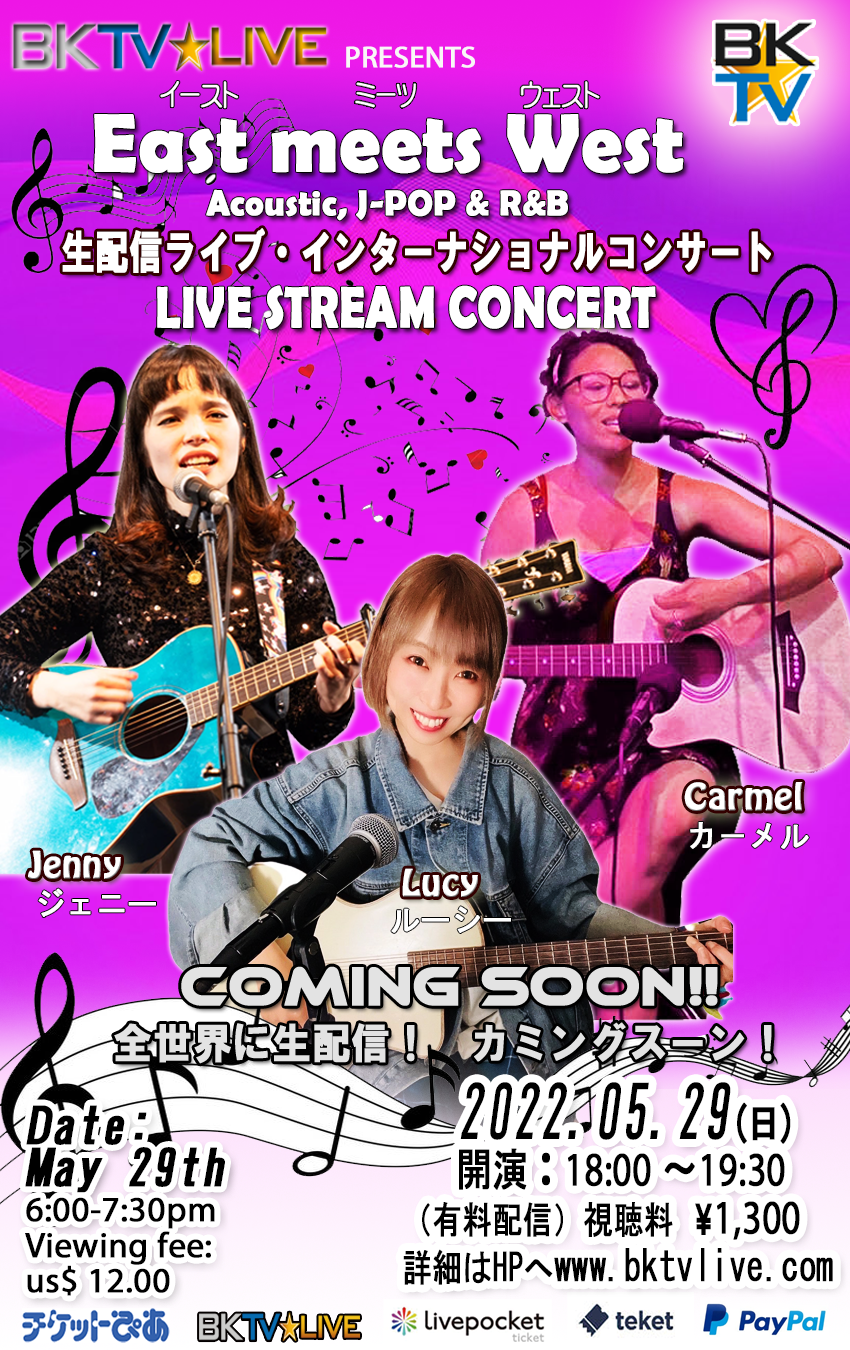 BKTV LIVE presents:
"East Meets West" Acoustic, J-POP & R&B LIVE Stream Concert by 3 talented musicians! Don't miss it!!
Jenny
Jennifer ( Jenny ) was born in Kobe, Japan. Growing up bi-racial in Japan, ( with a Japanese mother and an American father ) her father played a huge part in Jenny's life for becoming a musician and producing her songs to this day.
Jenny is now a talented vocalist/song-writer and has released 2 albums and written over 50 songs. She composes and sings her songs both in English and Japanese in order to reach fans on both sides of her heritage. In whatever language she chooses to sing her songs, Jenny never fail to capture her audience's attention. She has a warm mesmeric charm in her voice that is soothing and heart-touching to everyone.
Jenny is a rising star in Japan connecting her songs to music lovers both in Japan and around the globe. Some of her first singles she released include songs like : For Who I Am, Dreams Come True, Shine; and some memorable songs from her Albums include: Go With The Flow, You're The Root Of All That's Good, Hontouni, My Dear Jamie and many more.
Lucy
Lucy is a talented singer and songwriter. With her touching and soothing voice, she captures and pulls her listeners into her songs. She is a versatile and talented musician with a range of styles to please her audience.
She is also active in live houses such as Recital Hall, Minoya Hall, Margie Beat, Back Beat etc. She is a member of the global Cubase accreditation body DAW, she is also a lyricist, a composer and a vocalist working with other creators of Studio Memory.
She participated in several music festivals such as Spirits Winter Team, TMF, and Emergency Japan. She is also a member of Watanabe Flower and plays bass and guitar.
In 2020, she formed the rock band "Monsterkakumei". She and the band has appeared on Sun TV, FM Osaka, and Mainichi Broadcasting shows. She is very active on various SNS platforms including Live broadcasts on 17LIVE.
Carmel
Carmel is a singer from South Africa. She plays guitar and keyboards with great dexterity, and her crystal-clear voice plays everything from pop songs to R&B, which is sure to soothe and gently envelop those around her.
Instagram:@thecarmeldanielle
YouTube:youtu.be/Q9_hF1RJlCg
   Musician    
Jenny, Lucy, Carmel
Date
29th May 2022

(SUNDAY)

Japan time
Time
6pm to 7:30pm ( 90 min )
Break time
–
Ticket price
1,300 Yen   /    US$ 12.00
Ticket vendors
PayPal
Paypal payment
・ Please check the recommended streaming environment in advance.
■ Recommended environment
For Smart phones & tablets:
・ IOS 11.0 or later (Safari latest version)
・ Android OS 5.0 or later (Google Chrome latest version)
For PCs & computers:
Please be sure to have either Windows 10 or higher (latest version of Google Chrome / Safari / MS Edge / Firefox) or MacOS 10.9 or higher (latest version of Google Chrome / Safari / Firefox) ready for
viewing.