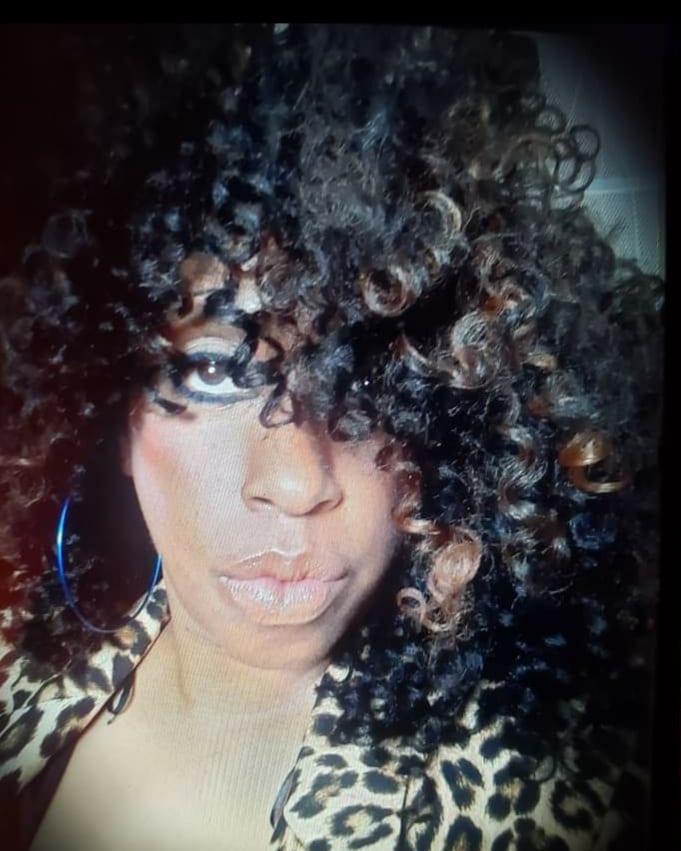 Address :
BKTV Live Stream
Tel :
(+81)-(0)6-6245-7679
Sabrina Solo Live
R&B, Soul, Vocalist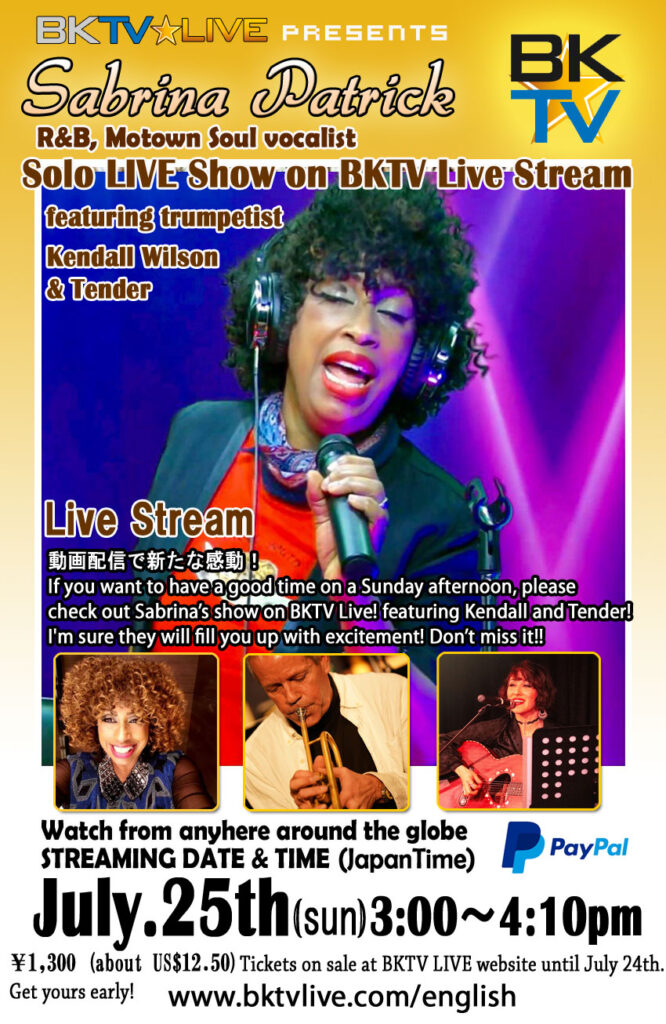 Profile
Sabrina Patrick
Given names: Sabrina Patrick,  Nickname: Sabu-chan
Birthplace: Atlanta, Georgia, USA
Occupation: Vocalist
Music genre: Motown, Disco, Jazz, Gospel, R & B, Hip-Hop, etc.
Sabrina is a vocalist, dancer, choreographer, and songwriter. She is a natural creative talent that touches your soul.
Sabrina grew up in Atlanta, Georgia, where she listened to gospel in the church from an early age, and she naturally acquired powerful and soulful singing skills. People around her gradually became aware of her talent, and she was recommended joining local groups such as Platinum Dolls and Simply Raw, etc. Music has always been a part of her life, R&B, Jazz, Funk, and Rock, etc. She has sung with Toshinobu Kubota in 1989 and also has participated in singing back chorus with Bro. KORN in 1997.
However, she could not erase her passion as a singer because she was born to sing. She has been active in Asia for the last 30 years, especially in cities such as Tokyo, Yokohama, Nagoya, Osaka, Fukuoka, Tokushima, Kyoto, and Kobe. Nicknamed "Sab-chan" by Japanese fans, she has joined vocal groups such as "Magga Brain," "Off the Hook," "Hall of Fame," and "Face to Face." Her sexy and powerful voice is very entertaining and exciting to the audience.
She also performed to the audience at Alupang Beach Tower Resort in Guam from 1997 to 1998, and she composed the theme song for Tarza Magical Adventure Zone Water Park.
She has recorded "Crazy Love" on Yoshihiro Toyoshima's CD and also "Light is in the Dark," the movie soundtrack of "Traveler to the Unknown" on Toshiba EMI Records. She also participates in the studio session. She was also active in the commercials of "Melrose for Men," Mikimoto Pearl, and NTT's radio commercials.
She sang on a live DVD at Ebisu Garden, in 2004 on Calm's "Ancient Future" CD, the song title "Peace." She also sang the covering song of Tracy Chapman's "Crossroads" on Calm's "Silver Moon" CD album in 2007. In addition to recording and live performances, she appeared on TV Tokyo's "Tonight's Best Boogie-Woogie Night" in 2003, with many singers such as Akiko Wada, Kiyoshi Hikawa, Yuzo Gucci, Fuyuki Moto, Nobuyoshi Kuwano, and Hiro Tsunoda.
She also appeared in "The Emperor of Minami" in 1994 when she was in V-cinema. She had a great response in 2005 and 2006 at Valentine's Day event at the Chapelle Des Anges in Kyoto, where she co-starred with pastor and Godiego' s bassist Steve Fox. If you look at Sabrina's performance, everyone will surely be excited and enjoyed it.
If you want to have a good time, please watch her performance! I'm sure Sabrina will wrap you up with full of excitement!  
   Musician    
Sabrina Patrick (a.k.a. Sabu chan)  feat. Trumpetist: Kendall Wilson
Genre
Pops, Motown R&B, Disco
Date
25th July 2021

(SUN)

Time
1st Stage: 3:00 pm ~ 3:30pm 2nd Stage: 3:40pm ~ 4:10pm
Break time
3:30pm ~ 3:40pm
Ticket price
¥1,300(Tax incl)
Ticket vendors
PayPal & LivePocket
Paypal Payment
Credit card

Ticket sales have ended.