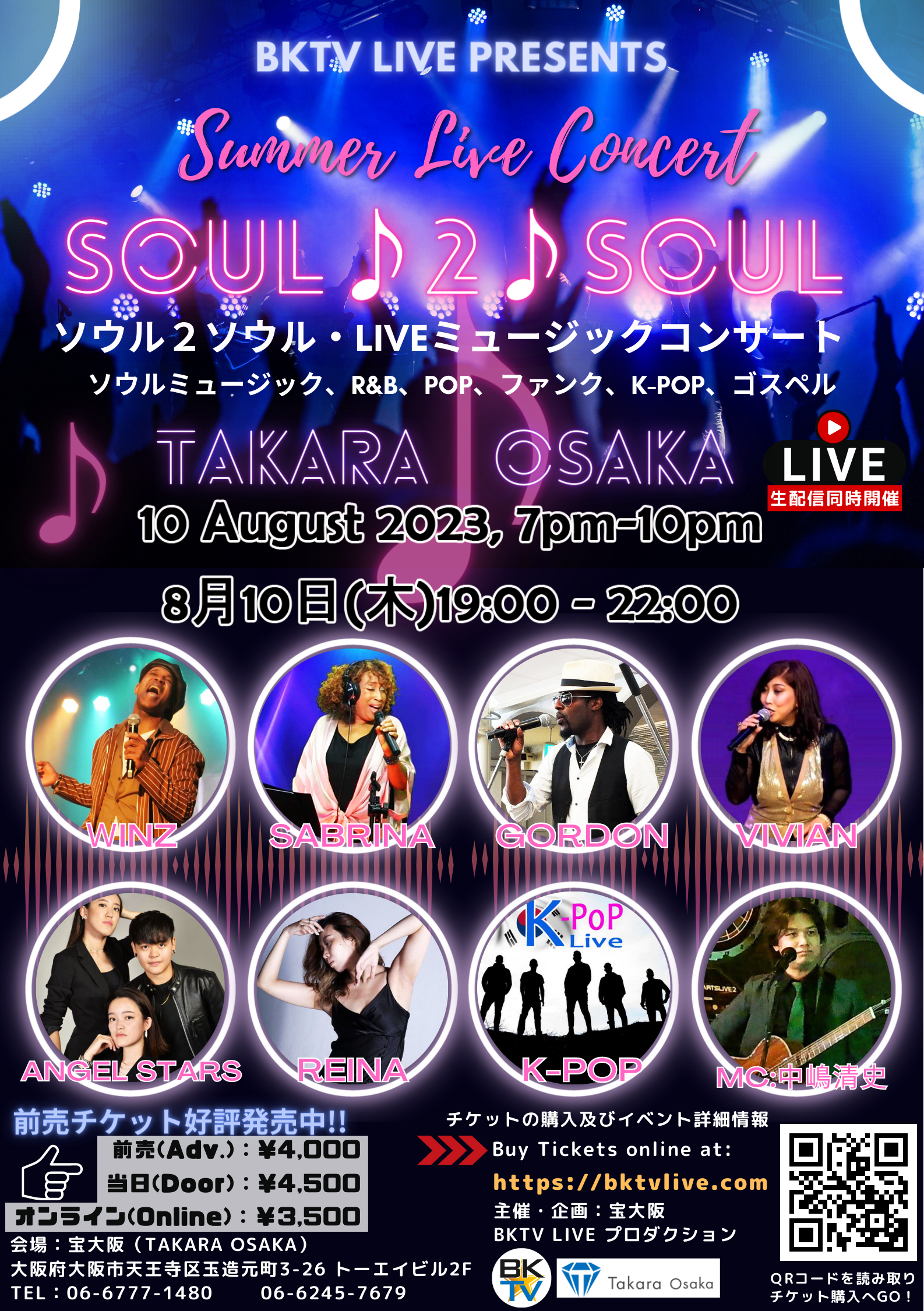 Address :
Venue: 2F Toei Building, 3-26 Tamatsukuri Motomachi, Tennoji-ku, Osaka, 543-0014, Japan [Organized and planned by Takara Osaka & BKTV LIVE Productions
SOUL 2 SOUL Live Concert!
TAKARA OSAKA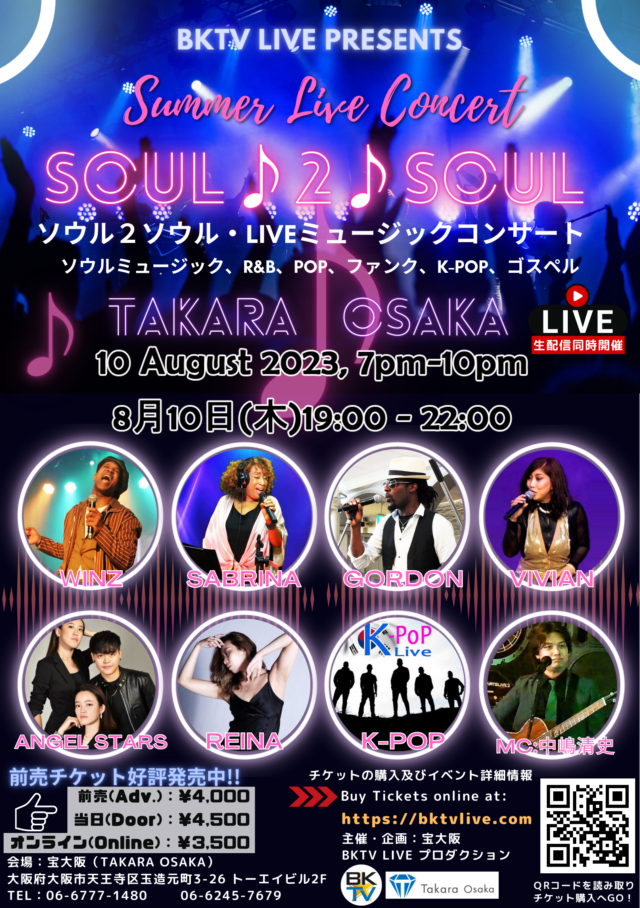 This is another great Live concert from BKTV Live Production that you shouldn't miss this year! The SOUL2SOUL LIVE Concert! Featuring the best Pop, Motown R&B Soul and gospel musicians living in Kansai Japan, all perfroming in one venue, same night! Also featuring great performances from very talented soul singers in the K-POP and J-POP music world. Opening the stage for the show will be the talented dancer REINA from FDL. Come witness and enjoy a wonderful live concert with friends and loved ones and make this summer a memorable one. Scan the QR code below or Checkout the official BKTV website to purchase the limited advance tickets avaliable: https://www.bktvlive.com
【Organized and planned by Takara Osaka & BKTV LIVE Productions】
*Please note that advance tickets for the venue are available at BKTV direct sales and Live Pocket.
Online distribution tickets are available at BKTV, Ticket Pia, and Teket.
Artist name
Performing Artists:
Winz
Sabrina Patrick
Gordon Hyppolite
Vivian
THE ANGEL_STARS
DANCER REINA
Special live performances by K-POP idol groups
MC: Nakajima Seishi
Genre
R&B, Soul, Funk, Disco, J-Pop, K-Pop live concert
Date
Thursday, August 10, 2023
Venue
Takara osaka (Tamatsukuri, Osaka)

*Simultaneous live streaming from the live venue!

Address
2F Toei Building, 3-26 Tamatsukuri Motomachi, Tennoji-ku, Osaka City, Osaka
Detail
1 minute walk from Tamatsukuri Station on JR Osaka Loop Line
1 minute walk from Tamatsukuri Station (Exit 5) on Osaka Metro Nagahori Tsurumi-ryokuchi Line
Time
Doors open/18:30, Concert begins/19:00, Closing/22:00 (tentative)
Chargea
Adv.:¥4,000(tax in)/ Door:¥4,500(tax in)/ Online:¥3,500(tax in)
sales destination
within this site
Payment Method
paypal
Information
【Organized and planned by Takara Osaka & BKTV LIVE Productions】

※The link information to watch the live show and the advance tickets (electronic version) will be sent to the e-mail address of the purchaser within 24 hours. Please make sure that your e-mail address is correct and that you do not reject any e-mail messages.
Advance Ticket
On sale – Sales end at
23:59 on August 9, 2023
Online Ticket
On sale – Sales end at 18:00
on August 10, 2023
Winz
Winz, is an acclaimed 40-year industry veteran with an exceptional range of talents and experience in live music and acting. With an avid interest in traveling and diverse cultures, Winz has held shows worldwide, tailoring performances to audiences in Singapore, Japan, and various parts of Asia. He is a skilled vocalist with an outstanding talent to connect with audiences.
Innovative and savvy, Winz has established himself as an authority in his field, creating a unique space for himself and his creative work. He has garnered awards and recognition from some of the industry's most prestigious bodies, most recently showcased in the Tama Tokyo Film Festival, where he won an award for his performance in the indie film, "Soulman."
Winz is an outgoing and dynamic member of any team, collaborating with a mix of local and international artists to create highly engaging and dynamic shows at Garage Paradise in Kobe, Japan. He has a proven track record of managing budgets, marketing, and logistics for successful performances, placing emphasis on bringing a sense of wonder to audiences through innovative staging and technological effects.
At present, Winz is thrilled to explore new opportunities in acting and motivational speaking while continuing to produce his original music content.
More detail:https://winzworld.amebaownd.com/
Sabrina Patrick
Given names: Sabrina Patrick,  Nickname: Sabu-chan
Birthplace: Atlanta, Georgia, USA
Occupation: Vocalist
Music genre: Motown, Disco, Jazz, Gospel, R & B, Hip-Hop, etc.
Sabrina is a vocalist, dancer, choreographer, and songwriter. She is a natural creative talent that touches your soul.
Sabrina grew up in Atlanta, Georgia, where she listened to gospel in the church from an early age, and she naturally acquired powerful and soulful singing skills. People around her gradually became aware of her talent, and she was recommended joining local groups such as Platinum Dolls and Simply Raw, etc. Music has always been a part of her life, R&B, Jazz, Funk, and Rock, etc. She has sung with Toshinobu Kubota in 1989 and also has participated in singing back chorus with Bro. KORN in 1997.
However, she could not erase her passion as a singer because she was born to sing. She has been active in Asia for the last 30 years, especially in cities such as Tokyo, Yokohama, Nagoya, Osaka, Fukuoka, Tokushima, Kyoto, and Kobe. Nicknamed "Sab-chan" by Japanese fans, she has joined vocal groups such as "Magga Brain," "Off the Hook," "Hall of Fame," and "Face to Face." Her sexy and powerful voice is very entertaining and exciting to the audience.
She also performed to the audience at Alupang Beach Tower Resort in Guam from 1997 to 1998, and she composed the theme song for Tarza Magical Adventure Zone Water Park.
She has recorded "Crazy Love" on Yoshihiro Toyoshima's CD and also "Light is in the Dark," the movie soundtrack of "Traveler to the Unknown" on Toshiba EMI Records. She also participates in the studio session. She was also active in the commercials of "Melrose for Men," Mikimoto Pearl, and NTT's radio commercials.
She sang on a live DVD at Ebisu Garden, in 2004 on Calm's "Ancient Future" CD, the song title "Peace." She also sang the covering song of Tracy Chapman's "Crossroads" on Calm's "Silver Moon" CD album in 2007. In addition to recording and live performances, she appeared on TV Tokyo's "Tonight's Best Boogie-Woogie Night" in 2003, with many singers such as Akiko Wada, Kiyoshi Hikawa, Yuzo Gucci, Fuyuki Moto, Nobuyoshi Kuwano, and Hiro Tsunoda.
She also appeared in "The Emperor of Minami" in 1994 when she was in V-cinema. She had a great response in 2005 and 2006 at Valentine's Day event at the Chapelle Des Anges in Kyoto, where she co-starred with pastor and Godiego' s bassist Steve Fox. If you look at Sabrina's performance, everyone will surely be excited and enjoyed it.
If you want to have a good time, please watch her performance! I'm sure Sabrina will wrap you up with full of excitement!
Gordon Hyppolite
Gordon N Hyppolite was born in Brooklyn, New York, and raised in Montreal Canada. Coming back to Brooklyn in mid elementary school, his love for the arts began to grow, particularly, music.
Untrained, Gordon started imitating video game music on the piano as a hobby and created covers of popular titles such as, Zelda, Final Fantasy 7, and Chrono Trigger, just to name a few.
In College, Gordon started to become highly active in the dance scene through hip-hop dancing, break dancing, and contemporary dancing. Gordon believes that through the arts, there is a psychological barrier that can be overcome which can enable people to reach a realm that is outside of our senses.
It is his hope that through his music, people will be able to find peace and experience the love of God.
Vivian
Artist ,Singer and a Ustream radio broadcaster ,live field reporter of RaydioFilipino
Vivian Hernaez also known as Lady V born in Manila, Philippines began her young career in the church choir at the age of 11, Throughout high schools she became a lead performer for excerpts and musicals of Sing Out Philippines ,a popular vocal ensemble of its's time. She Went for individualized training at Ryan Cayabyab Music School ,a sprawning ground for singing talent in Manila, Philippines. She took early jobs as a professional performer at Manila Hotel,Grand Boulevard Hotel etc.. Her audiences included entertainment celebrities, businessmen, and dignitaries such as the former President Fidel Ramos. She consequently expanded her horizons migrating to Tokushima, Japan shuttling to different places such as Tokyo,Kyoto,Osaka,Kobe and more. She had performed in prestigious annual events such as Japan Music Week, Tokyo Music Festivals, Kansai Music Festival ,Jazz Festivals and cultural festivities.
Vivian was also a model of NTT Japan telephone card in the middle of 80's and a commercial advertisement model of Milo energy drink in the Philippines wayback.. Appears in NHK television ,Shikoku cable television in Japan and PTV Channel 4 Philippines as a guest performer 2017./2019 Released her first independent CD recorded in the Philippines in the year 2013 produced and arranged by Johnny Alegre the jazz legend of the Philippines with a co -arranger of one song in the album Jay Durias of the Southborder .
Recently released her 2nd independent original single album in Japan and 3rd album of original Tagalog songs May 2018 … Received a Global Filipino for excellence and Entertainment award in 2016 and Most Outstanding Broadcaster and Performer award In World class excellence award 2017.
Currently living in Kobe performing in hotels,live shows,weddings,private functions,organizing and producing shows and charity events .
Look for her on http://www.facebook.com/VivianHernaez   http://entertainer-vivian-Hernaez
THE ANGEL_STARS
A three-member vocal unit active mainly in the Kansai region.

K-POP GROUP LIVE – SECRETGUEST!
You can also enjoy special performances by K-Pop idol groups that made their major debuts in 2013, showcasing the close connection between KPOP and Western (Seoul) music and its fascination. Don't miss it!
DANCER REINA
Coming soon….

MC: Nakajima Seishi (Music activist and musician)