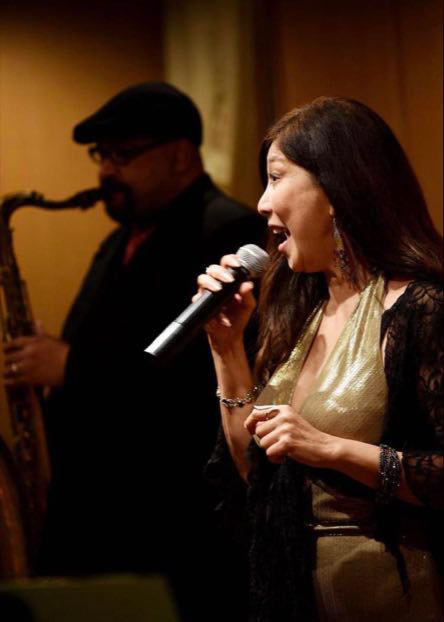 Address :
BKTV Live Stream
Tel :
(+81)-(0)6-6245-7679
Vivian Hernaez Solo Live show
Singer, Song-writer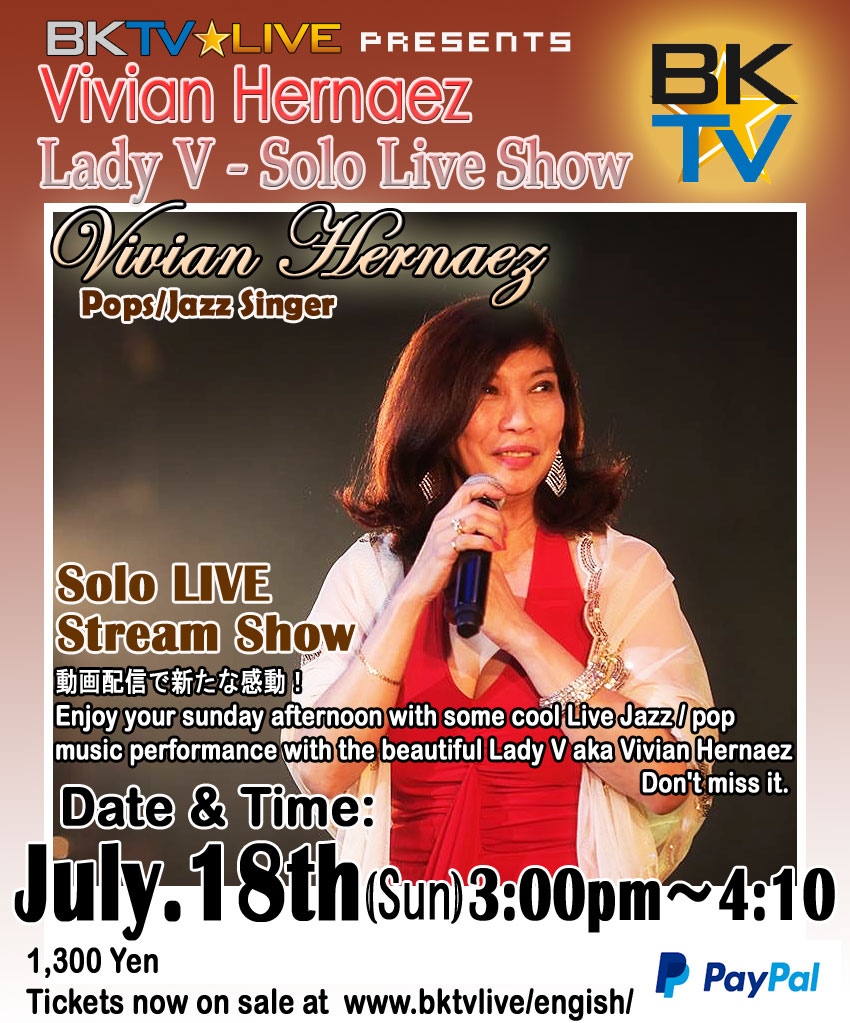 Profile
Artist ,Singer and a Ustream radio broadcaster ,live field reporter of RaydioFilipino
Vivian Hernaez also known as Lady V born in Manila, Philippines began her young career in the church choir at the age of 11, Throughout high schools she became a lead performer for excerpts and musicals of Sing Out Philippines ,a popular vocal ensemble of its's time. She Went for individualized training at Ryan Cayabyab Music School ,a sprawning ground for singing talent in Manila, Philippines. She took early jobs as a professional performer at Manila Hotel,Grand Boulevard Hotel etc.. Her audiences included entertainment celebrities, businessmen, and dignitaries such as the former President Fidel Ramos. She consequently expanded her horizons migrating to Tokushima, Japan shuttling to different places such as Tokyo,Kyoto,Osaka,Kobe and more. She had performed in prestigious annual events such as Japan Music Week, Tokyo Music Festivals, Kansai Music Festival ,Jazz Festivals and cultural festivities.
Vivian was also a model of NTT Japan telephone card in the middle of 80's and a commercial advertisement model of Milo energy drink in the Philippines wayback.. Appears in NHK television ,Shikoku cable television in Japan and PTV Channel 4 Philippines as a guest performer 2017./2019 Released her first independent CD recorded in the Philippines in the year 2013 produced and arranged by Johnny Alegre the jazz legend of the Philippines with a co -arranger of one song in the album Jay Durias of the Southborder .
Recently released her 2nd independent original single album in Japan and 3rd album of original Tagalog songs May 2018 … Received a Global Filipino for excellence and Entertainment award in 2016 and Most Outstanding Broadcaster and Performer award In World class excellence award 2017.
Currently living in Kobe performing in hotels,live shows,weddings,private functions,organizing and producing shows and charity events .
Look for her on http://www.facebook.com/VivianHernaez   http://entertainer-vivian-Hernaez
Musician
Vivian Hernaez (a.k.a. Lady V)
Genre
Pops, Standard & Contemporary Jazz
Date
18th July 2021

(SUN)

Time
1st Stage: 3:00 pm ~ 3:30pm 2nd Stage: 3:40pm ~ 4:10pm
Break time
3:30pm ~ 3:40pm
Ticket price
¥1,300(Tax incl)
Ticket vendors
Pay directly with PayPal
Payment methods
Credit cards

Ticket sales have ended.
* The Live Pocket logo used on this site is a registered trademark of Avex Corporation.